MDF® ProCardial® Titanium Dual Head Stethoscope with Titanium Chestpiece and Headset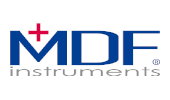 There has always been a trade-off between sound and weight...until now. At nearly half the weight of stainless steel, our titanium series is the first of its kind to deliver uncompromised sound.
What do space shuttles, airplanes, and now MDF Instruments stethoscopes have in common? The use of titanium. Touted for its strength-to-density ratio, resilience, and resistance to crack and corrosion, titanium is the perfect metal to stand up to the wear and tear faced daily as a physician. Though at room temperature the metal is relatively low in density and in turn, lighter in weight, titanium maintains its strength and hardness through its intense bonds between atoms.
More Information

| | |
| --- | --- |
| GHM Brand Reference | MDF Instruments |