Performacide Kills Parvo Disinfectant & Deodorizer Kit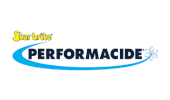 Description
Make cleanliness a priority before bringing a new pet into your home, and make sure it's quick, easy, and mess-free with the Performacide Disinfectant & Deodorizer Kit. Performacide is EPA-Registered to kill canine parvovirus, feline calicivirus, avian influenza-A virus, E. coli, bacteria, fungi, algae, mold and mildew, as well as several other dangerous viruses you'll want to keep out of your pet's new home. Even better, it's easy to use! Performacide requires no wiping and no rinsing, making your cleaning project safe and easy. Simply insert the pouch into an opaque container and fill with water—voila! No more pouring smelly chemicals or re-living chemistry class to create complicated dilutions. Eliminates messes, spills, and many safety concerns in a quick spray, and make your home pawfect for a new friend!
Key Benefits
Performacide is certified to kill canine parvovirus, feline calcivirus, avian influenza-A virus, and a wide variety of other viruses, bacteria and fungi to make your home safe and clean.
Safe to use on stainless steel, plastic, vinyl, and stone without corroding, and with no harsh chemical fumes, odor or harmful residues.
Eliminates odors on carpets, carpet cushions, upholstery, drapes and other porous materials.
Contains a heavy-duty odor eliminator that chemically oxidizes active pheromones to prevent re-marking.
An ideal solution for groomers, kennels and day care, veterinary offices, feed and supply stores, pet shops, and animal rescue facilities.
What's Included
32-oz. kit contains a 1.19 gram ClO2 generating pouch, 32-oz. mixing and storage bottle with trigger sprayer.
Precautions
It is a violation of Federal Law to use this product in a manner inconsistent with the labeling. Read the entire label and use strictly in accordance with precautionary statements and use.
More Information

| | |
| --- | --- |
| GHM Brand Reference | Performacide |